I've been home for five days now, and it is wonderful.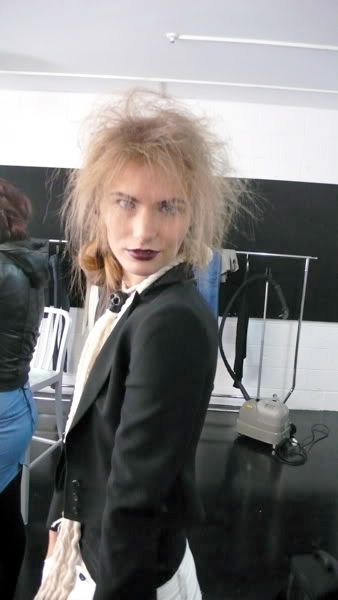 I stepped off the plane and into the arms of my best friend from high school, Sophie. Then on Friday I went to work for a magazine.
Sophie has been keeping me at her flat. We had a party.
One thing I missed: New Zealand dairy. Cream? It's creamier here.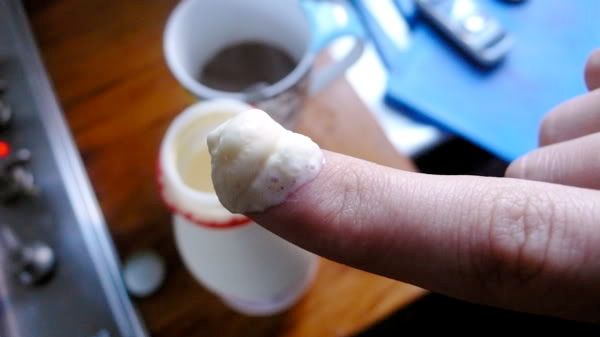 Every bottle uncorks to reveal a plug of pure frothy milkscum in the richest shade of beige. I believe the technical word may be 'fat.' In deliciousness it approaches perfection.
This multi-stage instructional runway schematic is from my last Sydney job. Who said catwalking was easy?
A stylist/photographer who gave me a lift to a fitting in Takapuna yesterday said Auckland has "dishwater light." I think that's about right. That monstrosity giving a fix to the sky is known as the Sky Tower.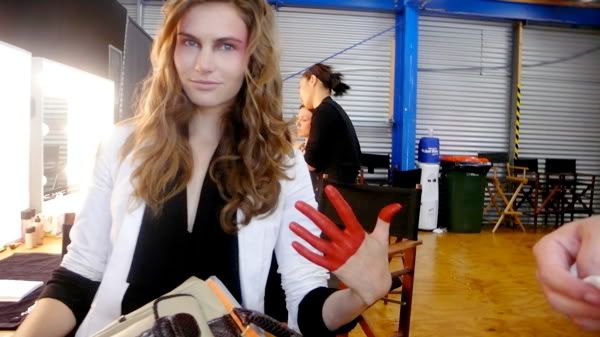 My first weekend involved many fittings. Today, New Zealand Fashion Week opened, and I had my first show. The styling was Indians and Pilgrims themed. All the models had big clusters of feathers woven through our hair, and we looked like our hands were dipped in red. (The blood of the cultures we'd destroyed?)
(This picture via Runway Reporter.)
New York has "the tents." Auckland? "The sheds." But ours open onto the harbour, with an option for yacht parking.
Over the next few days I have at least eight more shows. I don't know if I can exactly explain how exciting it is to be walking for some of the designers I idolised as a fashion-obsessed 15-year-old, as well as some of the talents who have sprung up since I left four years ago.
New Zealand struggles to a certain extent with "cultural cringe" — a phenomenon I explain to my American friends as the persistent notion that one's country and countrymen do not automatically merit consideration among the best in the world in their chosen fields. (Not that I think any American, being born into a culture so suffuse with institutional self-regard and burstingly patriotic amour propre, will ever understand. The only country I've ever lived in and felt similar shades of this sentiment was Switzerland.)
New Zealanders don't feel naturally entitled to greatness. We are taught to conceive of ourselves, at best, as a special-interest group; the highest praise any Kiwi can expect in the local press is that their given works are pretty good — for New Zealand. Setting a novel in or making a movie about or writing song lyrics that mention Hamilton or Dunedin are not choices nearly so automatic as doing any of the above for London. (London: even the word itself conjures up stories that have long since entered the common culture. Swinging London. London Brick Lane. The Clash London. London bridge is falling down. Cool Britannia London. I've never even set foot in England, and yet I can bring to mind London stories, however cartoonish, without a second thought. London's cultural security is unimpeachable.)
In contrast, you rarely walk the streets of Auckland or Christchurch idly thinking of the narrative possibilities they suggest, because you simply aren't conditioned to do so. We grow up with songs that reference addresses in New York City and movies made in continental Europe and — always — the knowledge that Australia's economic size and brash national accent and lucky geographical unmissability ensure our neighbours some measure of global heft. For their loudness, we seem all the more quiescent. So don't think I'm being glib or ironic when I say that I am almost as excited to be walking for Karen Walker and Zambesi as I would be to grace Marc Jacobs' or Alexander McQueen's runway some season. I mean it from the bottom of my peremptory kiwi heart.
The government set the date of the election — November 8 — last Friday, my first full day back home. Overnight, political hoardings sprung up on busy street corners like colourful advertisements of vivid, two-dimensional optional futures. The New Zealand mood seems lifted presently. When I left the country, it was possible to pay a high schooler NZ$6.50 an hour to sell pastries and pull sandwich loaves through the slicer; today, the minimum wage is NZ$12. Unemployment, which during my childhood topped 10%, is now 3.9% — that is, second-lowest among developed nations. The OECD's 2008 Economic Outlook for the country threw around terms like "strong growth" and "booming commodity prices" and "tight labour markets" before commending the deployment of contractionary monetary policies in 2007 to head off inflation and predicting another 2.1% annual increase in GDP for 2009. Last weekend, Sophie's boyfriend — a 26-year-old about to start a Ph.D — was advised by his father to buy a house.
What I am trying to tell you is just how good it feels to be a New Zealander in New Zealand right now. And how sad I am that the national mood seems inexorably tilted towards change. The current government — they of the effectively wielded monetary policy and the historically low unemployment and the high growth, the government that is the instrument of a populace that last year called itself the world's most satisfied, even though they were not most materially wealthy — has been in power for three terms. No New Zealand government since World War I has been granted a fourth. Here, taxation is high but not oppressive. Health care is a dream, unlike in the US. Birth rates are at replacement, unlike in Western Europe. Migrants are coming, and young, educated New Zealanders such as myself are moved to think during visits just how nice it would be to live in New Zealand again. Everything seems more or less good and sure-footed and ordinary middle-class people in their twenties can consider buying homes, and it breaks my heart, just a little, to think that all indications are that in six weeks New Zealand will vote for a former Merill Lynch VP of foreign exchange as its Prime Minister out of simple tedium. Just to see what happens.
One of the things I must do this trip is renew my passport, which expired in 2006, when I was still a landlocked student at Iowa. I did not vote in the 2005 elections because at the time I felt that it was dishonest to count myself among the demos of a country I did not live in or pay taxes to. I've changed my mind: New Zealand is my country, whether life circumstances allow me to have an address here at a given time or not. And when in 10 or 15 years' time I am, finally, able to return home, I want to find a country with reason to feel as enchantingly optimistic and energised as it feels to me today. Like a lot of young kiwis, I need to be away from New Zealand now. But I also need it to be here when I am ready to come back.
So another thing I must do this trip is register for a postal ballot.
But first, sleep. And fashion. And friends.