Sometimes I get the urge to be crafty.
Friday, I finished my castings in the the garment district — a Bermuda Triangle of tantalising opportunities into which I, and the contents of my wallet, disappear with mysterious regularity — and, as if my feet had a mind of their own, soon enough I found myself walking through the plate glass doors of a notions emporium on 6th Avenue. Reams of trims, ribbons, and laces of every description covered the walls. Inspiration boards showed magazine pages of Actual Designers' naval-style braid-emblazoned jackets, beadwork appliqués, and endless variations on the embellished jean theme. I knew right then I didn't have a hope; I could see my evening, and it was going to be an unbroken stretch of nonreturned phonecalls and no stopping for dinner until my obsession had run its course.
Fabric and notion stores, along with public libraries and department stores, have been one of my favourite places to spend an empty afternoon ever since my parents stopped chaperoning my trips to downtown Christchurch sometime in Form 2. I used to spend hours dreaming up new kinds of pants in school, plotting piping insertion and waistband facings between quadratic formulae and Lenin's NEP. Ball gowns, for those occasions when I was invited to school balls, would suck up months of obsessive sketching, and multiple trips across town for the shot dupion silk or liquid charmeuse that best approximated my mind's eye ideal. As a seamstress, in high school I often lacked compunction — I thought double-sided tape was a perfectly acceptable hemming aid — but my eye for design was alert enough to keep me from losing heart, and eventually I brought my natural perfectionism to bear on as full a range of crafts as I could manage. In college, I taught myself to knit and took up again the embroidery I'd last taken seriously when I'd been of an age to read Little Women; when I next needed a purse, I bought books from Amazon.com and leather and snakeskin and damn well made one. (And then another. And another. Cow hides are, it turns out, massive! And using an awl and hammer is a kind of elemental pleasure.)
Inside a fabric store, life seems rich with possibilities, and the stakes are low enough that I get to thinking I might just be able to commit to one.
What drew me last Friday was feathers. Feathers like on Alexander McQueen's runway. Feathers like on my favourite hat. Feathers like on a headband I remember my friend Emma rocking earlier this summer: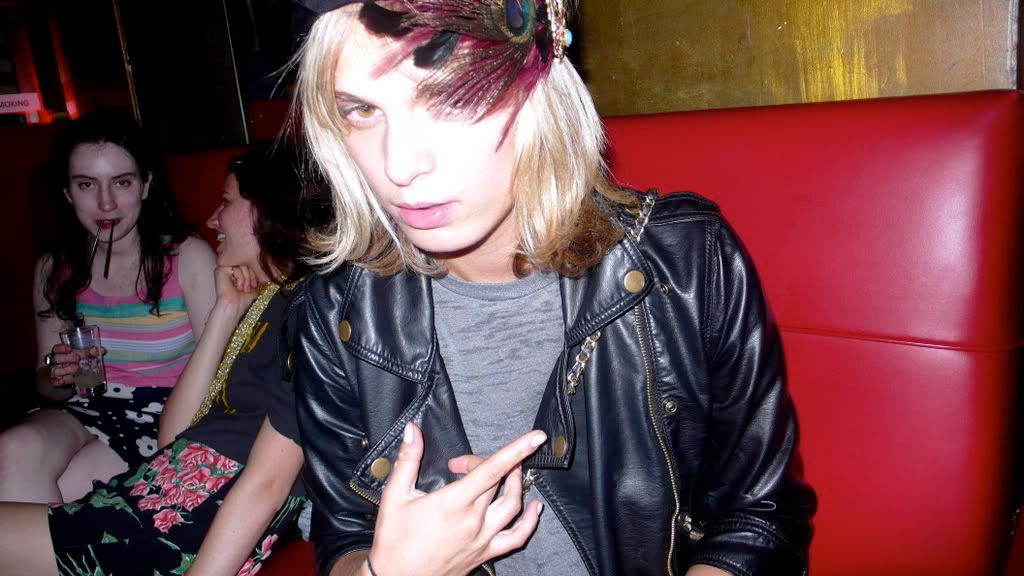 I saw a wall of coiled fluffy trims in extravagant colours and my mind went ding ding ding.
An hour later, I left the store with all the elastic, black lace, and feathers I needed — then I raced back to the place I've been staying, cued up Wednesday's Project Runway on the TiVo, and gleefully sized up a set of materials I'd never worked with before.
The notions store packed my findings in little ziplocs. I picked out long, wispy feathers that had downy ends and sea-green tips; short, stubby, brown-and-white flecked feathers sewn into bias tape; more greenish-black short feathers, also bound with bias tape; and a handful of feathers whose emerald fronds had been stripped off, right up to the tip of their dyed-red spines. Yes, I thought. I can make a headband with these.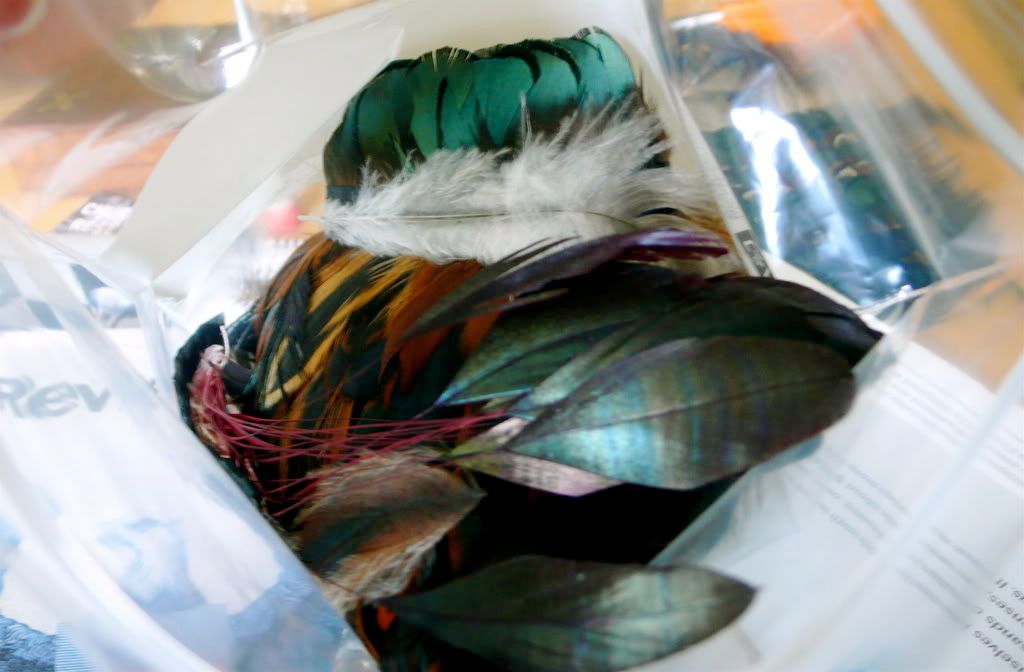 The wispy feathers I decided to cut up. I separated the fluttery bases from the green tendril tips, stripping a few stray fronds and — bingo! Two kinds of feathers to amuse myself with. I pushed my needle back and forth, adding Krazy glue over my rows of backstitches whenever I was paranoid that the pretties might work themselves free, and once I had a few rows down, I stitched in some of the red-stemmed green-tipped ones for drama.
Then I was home free with the bias-taped rows of green and brown. Sew on two ribbons, a bit of hidden elastic in back, and another layer of black lace to cover up my feather-stitching and glue-dabbing — and I was done.
I wore it out on the town that night. And, truthfully, every day since. I'm wearing it right now with a t-shirt and skinny black pants! I think it's love.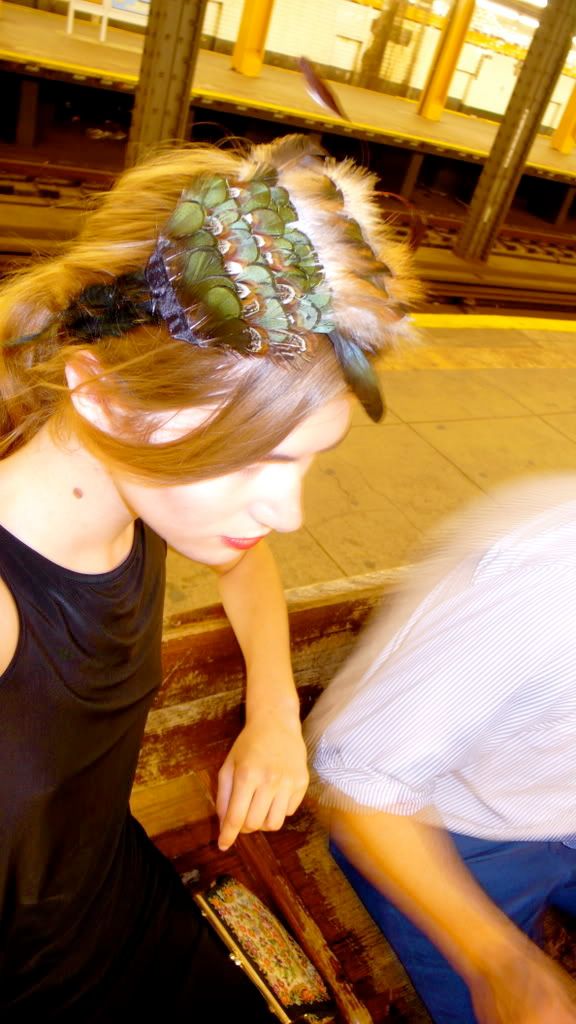 Now my only question is: What the hell do I do with all the feathers I have left over?